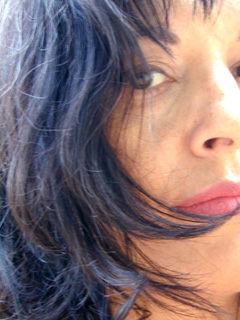 Ho voluto imparare questo lavoro con la determinazione forte e felice della giovinezza.
Ho voluto acquisire i mezzi tecnici per far diventare linguaggio una creatività interiore che cercava forma, colori.
Ora so che non ho sbagliato strada.
Ogni pezzo che produco ha una sua storia, un suo modo di diventare monile, un suo racconto per come ciò che lo compone è arrivato nelle mie mani.
La ricerca dei materiali, i viaggi, le letture, la passione per la vita, fanno di ogni gioiello qualcosa di unico, di amato da me e da ogni donna che, con orgoglio, lo ha indossato.

I wonted to learn this trade with strong and happy determination of youth, learning the technicalities so to turn my inner creativity into a language as it seeked shape and colour.
Now I know this was the wight way.
Each single piece I produce has its own story, its own way of becoming a jewel, a personal tale on how it reached my hands.
The search for materials, my travels, my readings, my passion for life, make every single jewel something special, that is loved both by me and every woman who has proudly worn it.

Antonella Sicoli vive e lavora a Firenze dal 1977. Pur avendo una formazione professionale di tipo tradizionale, acquisita nelle botteghe orafe della città, negli anni ha sviluppato un proprio linguaggio espressivo coltivato attraverso la passione per i viaggi, le letture, la scrittura e lo studio della cultura etnica e antropologica dell'ornamento. I suoi gioielli, tutti pezzi unici, sono il risultato di una ricerca che accomuna questi fattori a quelli di una sensibilità personale per il colore e per l'accostamento di materiali insoliti, spesso provenienti da scavi. Sue creazioni sono presenti nella collezione di Arte Contemporanea del Consiglio Regionale della Toscana e nella collezione permanente del Museo degli Argenti di Palazzo Pitti, nella sezione dedicata al gioiello contemporaneo, e pubblicati nel catalogo ufficiale.
Antonella Sicoli lives and works in Florence since 1977. Starting from a traditional skill learnt by Florentine goldsmiths, she has developed a personal expressive language from the passion for travels, readings, writing and ethnic finery and ornaments. Antonella Sicoli's jewels are unique pieces, derived from a cultural approach joined to her personal feeling for colour and unusual materials found in excavations. Her creations are displayed in the collection of Contemporary Art of the Regional Council of Tuscany and in the permanent collection of Museo degli Argenti (Museum of Silver) in Palazzo Pitti, in the Contemporary Jewelry Section, and published in the ufficial catalogue.
I gioielli di Antonella Sicoli sono in vendita su appuntamento nel suo atelier di Firenze Costa San Giorgio 29, oppure
Antonella Sicoli's jewelry can be seen and purchased in her Atelier in Florence Costa San Giorgio 29, Appointment needed, or
in BOLOGNA c/o "DEORO" , via Marchesana 12/c; in VERONA c/o "Etnie Galleria", Corso Santa Anastasia 25; in MILANO c/o "Oro Incenso e Mirra", Via San Fermo delle Battaglia 15;
on line www.artemest.com